La Grèce est sauvée (pour la 2eme fois) : quelques déclarations pour la postérité
Oyez-Oyez citoyens, le mirifique, le grandiose, le fantastique, le merveilleux président français, Nicolas Sarkozy a sauvé l'Europe. Ah, merde… On l'a déjà dit, ça. Oui, bon, il a sauvé l'Europe une troisième fois. Il y avait eu le premier plan de sauvetage de la Grèce, celui de l'Irlande, et maintenant, le deuxième plan pour la Grèce. Et croyez bien que sans lui, ce serait aujourd'hui l'apocalypse. L'Europe aurait volé en éclats.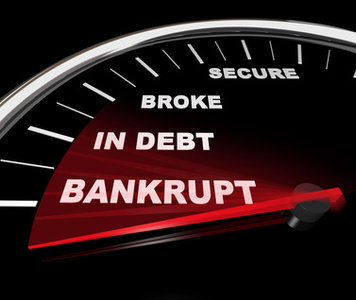 Oyez-Oyez citoyens, le mirifique, le grandiose, le fantastique, le merveilleux président français, Nicolas Sarkozy a sauvé l'Europe. Ah, merde… On l'a déjà dit, ça. Oui, bon, il a sauvé l'Europe une troisième fois. Il y avait eu le premier plan de sauvetage de la Grèce, celui de l'Irlande, et maintenant, le deuxième plan pour la Grèce. Et croyez bien que sans lui, ce serait aujourd'hui l'apocalypse. L'Europe aurait volé en éclats. Parce que s'il avait fallu compter sur la chancelière allemande, on pouvait compter les abatis de l'Union.
D'ailleurs, il l'a expliqué à ses ministres et conseillers, comme le rapporte le Canard Enchaîné de cette semaine :
"Si je n'avais pas été là, il n'y aurait pas eu d'accord (...). J'ai fait exactement comme Henry Fonda dans un film que j'adore, "Douze hommes en colère", qui retourne un à un les jurés pour sauver la tête d'un jeune homme promis à une condamnation à mort. J'ai retourné les uns après les autres les chefs d'Etat et de gouvernement, ceux qui voulaient faire peur à la Grèce (...). J'espère qu'on aura l'honnêteté de le reconnaître". "Ils pourront dire ce qu'ils veulent les socialistes. Ce n'est pas un président normal, comme se revendique Hollande, qui aurait réussi à trouver une solution à la crise (...). Cela n'a pas été facile de convaincre tout le monde, il a fallu passer sept heures avec Merkel..."
Soyez-en sûrs, désormais tout est réglé. Un plan historique, nous dit l'UMP. Défense de rire.
Le 25 avril dernier, soit un an après le premier plan d'aide à la Grèce, les gestionaires du pays le disaient déjà : tout allait aller mieux. Les soucis étaient presque un mauvais souvenir :
« Le premier ministre grec a déclaré dimanche, à l'occasion de son message pour la Pâque orthodoxe, que la Grèce arriverait à sortir de la crise "malgré les difficultés" qui continuent de peser sur le pays, un an après le recours à la zone euro et au FMI. Le président grec, Carolos Papoulias, a souhaité "que la résurrection du Christ aide le peuple grec à surmonter les difficultés". "Les temps sont difficiles. J'espère personnellement qu'on va les surmonter." »
Cette fois, les premiers signes de tension sur les marchés ont mis quelques heures seulement à se manifester. Rien à faire, le Christ doit être en vacances, c'est l'été pour tout le monde après tout.
L'or et l'argent sont repartis à la hausse, l'euro est reparti à la baisse. Fitch annonce que la Grèce est en situation de défaut temporaire, mais que cette situation ne changera pas avant un certain temps. Moody's annonce que la note de la Grèce est toute proche du défaut.
Nul doute, on reparlera de ce sauvetage herculéen de Nicolas Sarkozy (qui d'autre pourrait avoir aidé l'Europe à sortir de la galère ?) dans quelques mois lorsque les magiciens européens seront contraints de ressortir on ne sait quel lapin de leurs chapeaux. Laissez leurs armes aux marchés et au monde de la finance et vous pouvez être certains qu'ils s'en serviront. Et il y a longtemps que les marchés et la finance ont des armes plus balaises que les Etats. C'est tout le problème.
Je relevais il y a quelques temps sur Aporismes.com que les interventions de la banque centrale suisse pour contenir la hausse du franc suisse avaient des effets… ridicules. Première intervention : annulée en 8 heures. Deuxième : en 4 heures. Troisième : en deux heures. C'est qui qui a la plus grosse ?
Bref, pour la postérité et pour pouvoir s'y référer dans quelques mois, voici quelques déclarations tonitruantes des politiques après l'annonce du énième plan de sauvetage de l'Europe.
Quelques commentaires en gras for the Lulz…
Commençons par Christine Laboulette Lagarde qui n'a pas failli et qui a, comme à son habitude, mais pour la première fois en tant que directrice générale du Fonds monétaire international, fourni le plus gros lot de Lulz gratuits…
Statement by IMF Managing Director Christine Lagarde on the Eurozone Leaders' Summit

Press Release No. 11/289 July 21, 2011

Ms. Christine Lagarde, Managing Director of the International Monetary Fund (IMF), issued the following statement today in Brussels:

"The IMF welcomes the important steps taken today by the leaders of the eurozone and the EU institutions. These measures provide significant support to growth and financial stability in Greece and in the eurozone.

Christine (c'est décidé, on s'appelle par nos prénoms), il va falloir réinventer les manuels d'économie. Parce que les plans d'austérité infligés aux populations européennes n'apporteront pas de croissance. Bien au contraire. Quant à la détente sur les taux, on verra combien durera cette rose là.

"In particular, we strongly welcome the more favourable financing terms being provided by euro member states and their commitment to provide support to countries under programs until they have regained market access, provided they successfully implement those programs. We are also encouraged by the willingness of the private sector to support Greece on a voluntary basis.

Voyons vOAr, si j'étais une banque, entre perdre beaucoup et un peu, je choisirais quoi ? Ah, oui, vOAla, je serais « volontaire » pour soutenir la Grèce, histoire de ne pas subir un « haircut » trop important sur mes positions. Vessies, lanternes, toussa…

Taken together these measures will help to restore growth, improve Greece's debt sustainability, and provide the basis for a return to market access.

"Based on strong implementation of the program by the Greek authorities, and the determination by member states to support Greece, the IMF will continue to play its part in line with Fund policies and, of course, subject to the approval by our Executive Board.

"More broadly, we support the comprehensive steps taken today to strengthen the flexibility of the European Financial Stability Facility. Implementation is a matter of urgency.

Message subliminal aux politiques européens : si vous tardez à mettre ça en musique, les marchés vont vous laminer. Mais je le dis de manière subliminale parce que je ne voudrais pas blesser l'égo de Nicolas.

We also support the measures to strengthen fiscal consolidation and growth across the euro area. We look forward to the rapid finalization of the legislative package on the strengthening of economic governance.

"Again, the Fund welcomes today's decisions which, we believe, will have a positive impact not just for Greece and for Europe, but also for the global economy at large."

Haha… Même plus la peine de mettre un nez rouge pour faire rire tous les spectateurs du cirque…
Un petit coup d'œil à ce que nous a dit le Conseil :
COUNCIL OFTHE EUROPEAN UNION

Brussels, 21 July 2011

STATEMENT BY THE HEADS OF STATE OR GOVERNMENT OF THE EURO AREA AND EU INSTITUTIONS

We reaffirm our commitment to the euro and to do whatever is needed to ensure the financial stability of the euro area as a whole and its Member States.

Ah ? Pourquoi, quelqu'un en doutait ? En même temps, s'ils n'y croyaient plus, ils ne croiraient pas en leur job. Car sans euro, plus de boulot…

We also reaffirm our determination to reinforce convergence, competitiveness and governance in the euro area. Since the beginning of the sovereign debt crisis, important measures have been taken to stabilize the euro area, reform the rules and develop new stabilization tools.

Ahem… Pour l'instant, ce sont plutôt des rustines. Les mesures de fond, elles, se font toujours attendre. Mais on ne peut leur reprocher de faire semblant de croire le contraire.

The recovery in the euro area is well on track and the euro is based on sound economic fundamentals.

Mieux vaut entendre ça que d'être sourd, n'est-ce pas ?

But the challenges at hand have shown the need for more far reaching measures. Today, we agreed on the following measures:

Greece:

1.We welcome the measures undertaken by the Greek government to stabilize public finances and reform the economy as well as the new package of measures including privatisation recently adopted by the Greek Parliament. These are unprecedented, but necessary, efforts to bring the Greek economy back on a sustainable growth path.

Comme l'ont prouvé tous les programmes de privatisation, notamment en Grande Bretagne sous Margaret Thatcher…

We are conscious of the efforts that the adjustment measures entail for the Greek citizens,

Fort heureusement, les membres du Conseil ne sont pas impactés, leurs salaires ne sont pas réduits. L'austérité, c'est souvent pour les autres.

and are convinced that these sacrifices are indispensable for economic recovery and will contribute to the future stability and welfare of the country.

Ou tout au moins pour les bénéficiaires des privatisations. Il suffit de regarder du côté de l'ex URSS, ça profite…** En revanche, il faudrait que les auteurs de ce texte argumentent un peu parce que même un étudiant de première année en économie sait que de tels niveaux d'endettement et de tels plans d'austérité ne peuvent que se traduire par moins d'investissements, une fuite des capitaux, des bank run, mois de services sociaux, moins de salaires, moins d'investissements, moins de recettes fiscales, etc. Alors pour arriver à une « stabilité » et une « prospérité »… **

We agree to support a new programme for Greece and, together with the IMF and the voluntary contribution of the private sector, to fully cover the financing gap. The total official financing will amount to an estimated 109 billion euro. This programme will be designed, notably through lower interest rates and extended maturities, to decisively improve the debt sustainability and refinancing profile of Greece. We call on the IMF to continue to contribute to the financing of the new Greek programme. We intend to use the EFSF as the financing vehicle for the next disbursement. We will monitor very closely the strict implementation of the programme based on the regular assessment by the Commission in liaison with the ECBand the IMF.

We have decided to lengthen the maturity of future EFSF loans to Greece to the maximum extent possible from the current 7.5 years to a minimum of 15 years and up to 30 years with a grace period of 10 years. In this context, we will ensure adequate post programme monitoring. We will provide EFSF loans at lending rates equivalent to those of the Balance of Payments facility (currently approx. 3.5%), close to, without going below, the EFSF funding cost. We also decided to extend substantially the maturities of the existing Greek facility. This will be accompanied by a mechanism which ensures appropriate incentives to implement theprogramme.

We call for a comprehensive strategy for growth and investment in Greece. We welcome the Commission's decision to create a Task Force which will work with the Greek authorities to target the structural funds on competitiveness and growth, job creation and training. We will mobilise EU funds and institutions such as the EIB towards this goal and relaunch the Greek economy.

Ils devraient consulter quelques économistes de temps en temps, parce qu'à ce jour, il n'y en a pas beaucoup pour entrevoir une relance de l'économie grecque avant la saint Glinglin.

Member States and the Commission will immediately mobilize all resources necessary in order to provide exceptional technical assistance to help Greece implement its reforms. The Commission will report on progress in this respect in October.

The financial sector has indicated its willingness to support Greece on a voluntary basist hrough a menu of options further strengthening overall sustainability. The net contribution of the private sector is estimated at 37 billion euro (1).

Credit enhancement will be provided tounderpin the quality of collateral so as to allow its continued use for access to Eurosystemliquidity operations by Greek banks. We will provide adequate resources to recapitalise Greek banks if needed.

(1) Taking into account the cost of credit enhancement for the period 2011-2014. In addition, adebt buy back programme will contribute to 12.6 billion euro, bringing the total to 50 billioneuro. For the period 2011-2019, the total net contribution of the private sector involvement isestimated at 106 billion euro.

Private sector involvement:

As far as our general approach to private sector involvement in the euro area is concerned, we would like to make it clear that Greece requires an exceptional and unique solution.

All other euro countries solemnly reaffirm their inflexible determination to honour fully their own individual sovereign signature and all their commitments to sustainable fiscal conditionsand structural reforms.

C'est vraiment nécessaire de réaffirmer que l'on s'engage à rembourser une dette ? Inquiétant…

The euro area Heads of State or Government fully support this determination as the credibility of all their sovereign signatures is a decisive element for ensuring financial stability in the euro area as a whole.

Il faut combine d'années d'études pour arriver à sortir une telle lapalissade ?

Stabilization tools:

To improve the effectiveness of the EFSF and of the ESM and address contagion, we agree to increase their flexibility linked to appropriate conditionality, allowing them to:

act on the basis of a precautionary programme;

finance recapitalisation of financial institutions through loans to governments includingin non programme countries ;

intervene in the secondary markets on the basis of an ECB analysis recognizing the existence of exceptional financial market circumstances and risks to financial stabilityand on the basis of a decision by mutual agreement of the EFSF/ESM Member States,to avoid contagion. We will initiate the necessary procedures for the implementation of these decisions as soon aspossible.

Where appropriate, a collateral arrangement will be put in place so as to cover the risk arising to euro area Member States from their guarantees to the EFSF.

Fiscal consolidation and growth in the euro area:

We are determined to continue to provide support to countries under programmes until they have regained market access, provided they successfully implement those programmes. We welcome Ireland and Portugal's resolve to strictly implement their programmes and reiterate our strong commitment to the success of these programmes. The EFSF lending rates and maturities we agreed upon for Greece will be applied also for Portugal and Ireland. In this context, we note Ireland's willingness to participate constructively in the discussions on the Common Consolidated Corporate Tax Base draft directive (CCCTB) and in the structured discussions on tax policy issues in the framework of the Euro+ Pact framework.

All euro area Member States will adhere strictly to the agreed fiscal targets, improve competitiveness and address macro-economic imbalances. Public deficits in all countries except those under a programme will be brought below 3% by 2013 at the latest.

Heu ? Que dire ?** Ha ha ?**

In this context, we welcome the budgetary package recently presented by the Italian government which will enable it to bring the deficit below 3% in 2012 and to achieve balance budget in 2014. We also welcome the ambitious reforms undertaken by Spain in the fiscal, financial andstructural area. As a follow up to the results of bank stress tests, Member States will provideb ackstops to banks as appropriate.

We will implement the recommendations adopted in June for reforms that will enhance our growth. We invite the Commission and the EIB to enhance the synergies between loan programmes and EU funds in all countries under EU/IMF assistance. We support all efforts to improve their capacity to absorb EU funds in order to stimulate growth and employment, including through a temporary increase in co-financing rates.

Economic governance:

We call for the rapid finalization of the legislative package on the strengthening of the Stability and Growth Pact and the new macro economic surveillance. Euro area members will fully support the Polish Presidency in order to reach agreement with the European Parliament on voting rules in the preventive arm of the Pact.

We commit to introduce by the end of 2012 national fiscal frameworks as foreseen in thefiscal frameworks directive.

We agree that reliance on external credit ratings in the EU regulatory framework should be reduced, taking into account the Commission's recent proposals in that direction, and we look forward to the Commission proposals on credit ratings agencies.

En voilà une bonne idée. Mieux vaut être noté par une agence créée par soi-même ou par sa propre volonté plutôt que par une agence comme celles qui existent actuellement. Il est évident que le résultat sera à peu près aussi rigolo avec la nouvelle agence.

16. We invite the President of the European Council, in close consultation with the President of the Commission and the President of the Eurogroup, to make concrete proposals by October on how to improve working methods and enhance crisis management in the euro area..
Maintenant un peu de Nicolas Sarkozy parce que niveau rigolade, on ne fait pas mieux :
« Nicolas Sarkozy indique que le terme "défaut partiel" ne fait pas partie de son vocabulaire ».
Pas de bol, « défaut » fait partie du vocabulaire des marchés et des agences de notation…
On a donc 158 milliards pour sauver la Grèce, à quoi il faut ajouter les 110 milliards précédents, c'est à dire un total de 268 milliards. Attention, notez bien qu'il s'agit de rustines. Il y en aura donc d'autres. En attendant, l'Afrique meurt (de faim) et l'accord sur le financement de l'aide ne vient pas. Il faudrait seulement 1, 6 milliard de dollars en faveur des régions de la Corne de l'Afrique menacées par la sécheresse. M'est avis que l'Afrique va attendre un bon moment.
Quelques déclarations de ministres ?
Le ministre des finances français, François Baroin, a commenté l'accord : "Beaucoup de choses ont changé hier". "C'était un vrai rendez-vous d'histoire." De son côté, Le ministre des finances grec, Evangélos Vénizélos, a estimé vendredi matin que ce deuxième plan d'aide à la Grèce constitue un "grand soulagement" pour l'économie grecque, en assurant que le système bancaire grec était "garanti et assuré" par cet accord.
Alors, vous êtes rassurés là. Non ?
Jean-Claude Trichet, président de la Banque centrale européenne :
"J'ai bon espoir que tous les pays de la zone euro vont non seulement tenir rigoureusement leurs engagements actuels, mais qu'ils seront même en avance sur eux et prendront les mesures appropriées, comme c'est le cas en Italie". "L'euro est une devise solide, forte et crédible. Il n'y a pas de crise, car l'euro est stable et conserve extrêmement bien sa valeur"
Avant de refermer cette page, vous reprendrez bien un petit coup de CDS, non ?
Alors... Commençons sur 5 ans, pour une vision d'ensemble :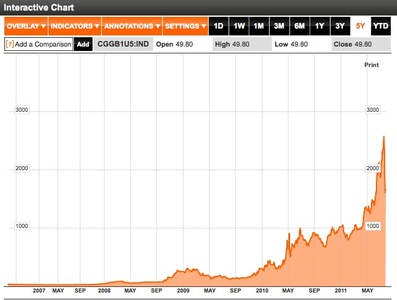 Puis sur un an pour voir ce que le premier plan d'austérité à donné :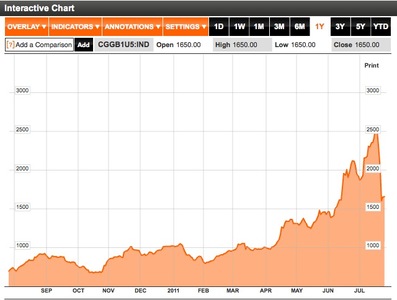 Enfin, sur une semaine pour voir l'effet du deuxième plan :